The Porches of Allenberry
Bringing People & Nature Together
Reminiscent of twentieth century borough towns, the Porches encourage people to enjoy the outdoors. Taking time to relax, gliding on the front porch swing and waving as neighbors pass by. Breathing in the fresh air, fueling with locally sourced food and letting things flow like the bordering stream. Centered on personal interactions, nature, arts and agriculture, the mission of the Porches is to elevate human wellness.
Focused on beauty and function, this group of plans interlocks elevations with careful attention to privacy. From rear access garage to the authentic front porch, these plans have no steps and no need for basements. The storage is upstairs.
Priced from the mid $300's 
1,700 – 2,300 Square Feet 
Tungsten - 1,717 sq ft 2BR 2BH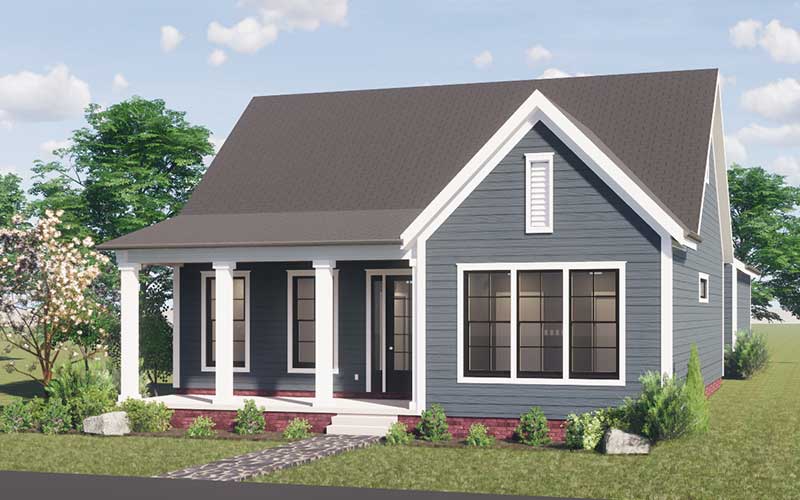 Charming one level living home. Tall windows offer the benefits of natural lighting. Two car garage has full stairs to storage galore. Seamless living spaces open to an outdoor patio. The owner retreat is luxury without pretense. Vast closet space, expanded double basin vanity, tile shower. Choose from four clever elevation designs.
Harvey - 1,990 sq ft 3BR 2.5BH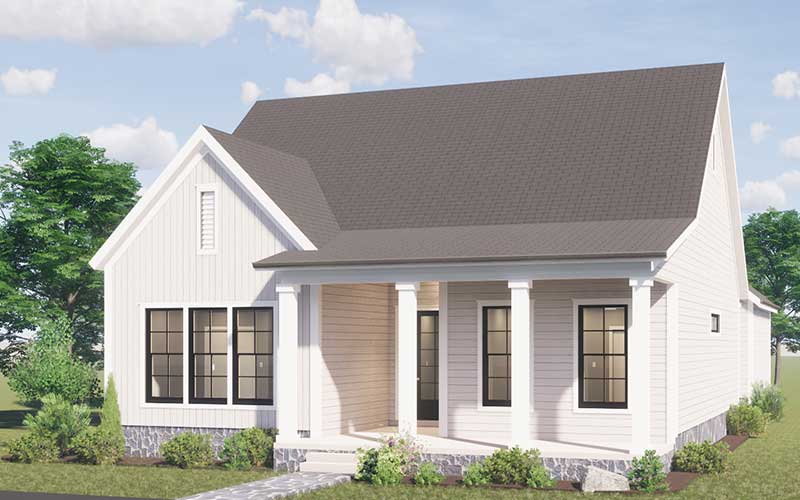 Elevated ceiling height in the connected dining and great room. One level living, no steps from the attached two car garage into the main dwelling. Additional bedrooms can flex into multi-use rooms. Four elevations to ponder.
Brook - 2,217 sq ft 3BR 2.5BH
One and a half story, characteristic of a Cape Cod. First floor sprawls out featuring a secluded library. The kitchen is the hub to the dining and great rooms with the entertainer's island. Second floor bedroom retreats, full bath and storage. Hard to decide between the stunning elevations.
The nostalgic breezeway connecting the detached garage acts as a pivot to the rear and side yards for great outdoor entertaining. The garage becomes a more purposeful, agrarian-like structure. Oversized by today's standards, it now adds a privacy element to the rear yards.
Priced from the mid $400's 
1,700 – 2,400 Square Feet
Dahlia - 1,717 sq ft 2BR 2BH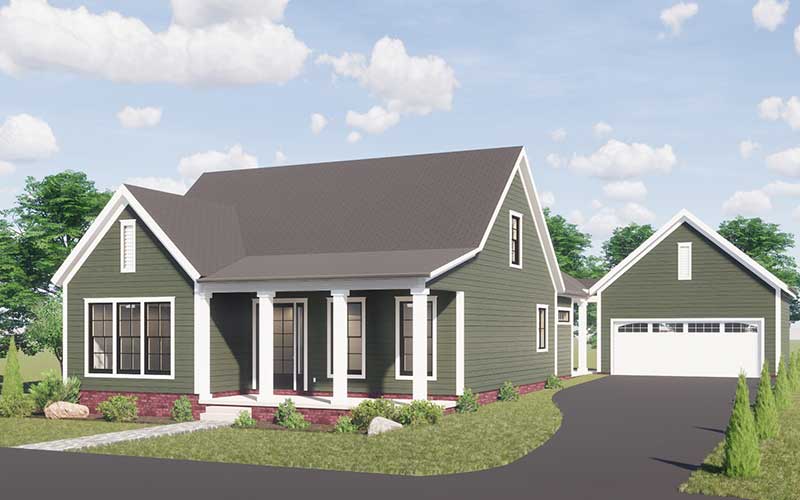 Lovely one level living with an exceptional layout. Owners retire to the opposite side of the active living area for restful sleep. Every window is placed with attention to daylight and privacy. The second floor can be finished living space or left unfinished for the perfect storage area. Choose from four clever elevation designs.
Lea - 1,990 sq ft 3 BR 2.5BH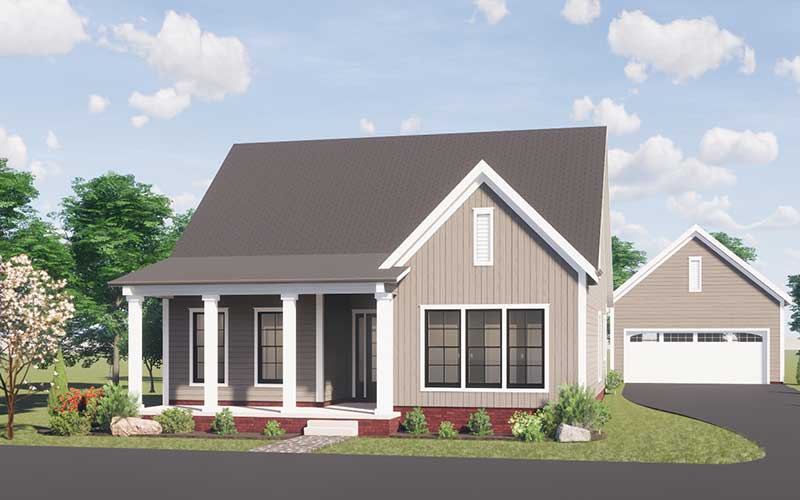 Flexible layout offers ways to customize your space. Bedrooms two and three are positioned where one could be a formal dining room, the other a quiet den. Abundant storage area on upper level. You choose if you desire the superior wall basement. Five elevations with beautiful features.
Heather - 2,217 sq ft 3BR 2.5BH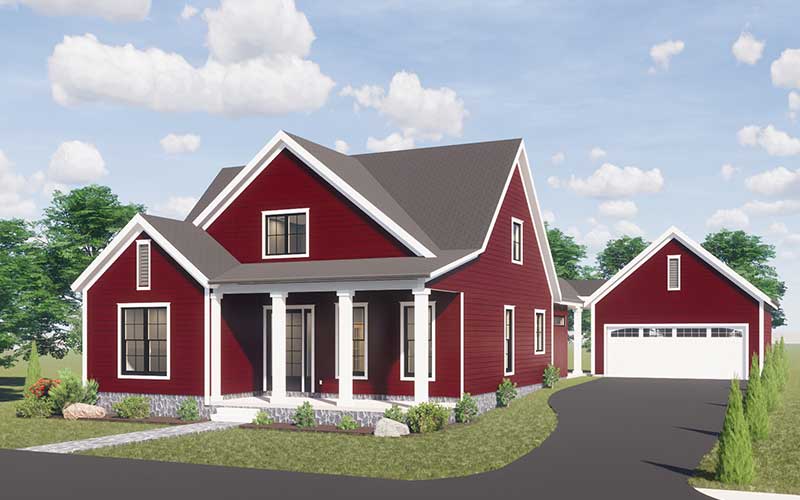 High ceiling in the expansive great room and dining room. Nine feet of glass to outdoor patio area. French doors from the foyer to private library. Separate owner vestibule. Ample main level laundry room. First floor owner suite with additional bedrooms and full bath on the upper level. Optional media loft. Three elevations choices.
Optimally designed for those seeking the option to have an exposed, walkout basement, these plans tend to group on hillside locations. Gentle giants sized to keep the things that matter while giving up the things that don't, like shoveling snow and blowing leaves.
Priced from the mid $500's 
2,600 – 3,400 Square Feet
Crockett - 2,691 sq ft 4BR 3.5 BH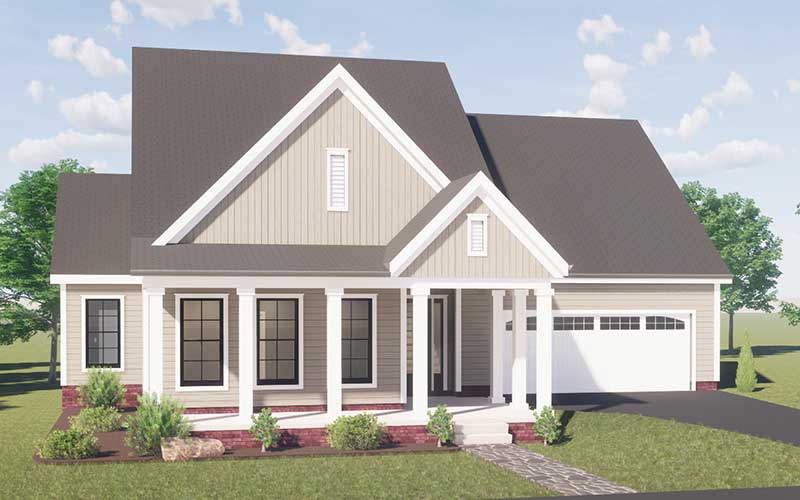 Wrap around front porch with real stone reveal. Expansive rear patio. Garage set back almost 20' from front corner creates gorgeous curb appeal. Owner's suite wall of windows. Opulent bath. Jack & Jill bath for two bedrooms on main level. Entertainer's open kitchen, dining room and great room. Second floor loft, bedroom and full bath. Storage galore.
Appalachian - 3,520 sq ft 4BR 3.5BH
Natural light from every corner. Generous spaces. Kitchen island with area for six or more to sit down. French doors to front flex room off entry. Owners dream suite. Dining room connects to outdoor living. Owner entry from garage offers exceptionally designed, highly functional spaces. Second floor with loft, fourth bedroom and full bath.
Mt. Laurel - 3,150 sq Ft 3BR, 3BH
Quintessential wrap around porch, panoramic views. Luxurious owner's suite features spa-like bath. Soaking tub, tile shower, double bowl vanity and massive walk in closet. Expansive great room with 10' ceilings connects with Kitchen. Separated, but open dining room. Media nook, loft, full bath and bedroom on the second floor.
Create your home, your way. With the design choices at Allenberry, our professional designers dedicate time to your individual style. The vast choices at the design center make is easy to fashion your total home expression. 
For those who desire a vision pulled from their own imagination, we offer the Artisan Access Program. Unlike many builders, we are skilled at custom creations. You meet with our preferred trades. Design your dream kitchen, create the spa bath you deserve. 
Leave all your worries behind. Exterior maintenance for all different kinds of weather. Summertime grass cutting. Fall pruning, leaf blowing and collection. Winter snow shoveling. Spring clean-up and mulching. You're covered. Pack your bags and go for as long as you want. Now you have the time for the things you love.
When you feel confident that you're going to buy, but you're not quite ready to move. Get the best of both worlds. Your priorities are important. Go to your family reunion. Take that vacation of a lifetime. You can lock in today's pricing and get started in your time.